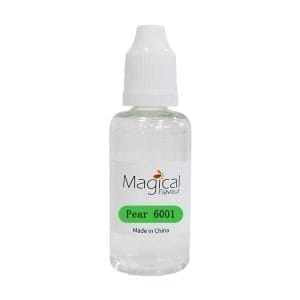 Product Description
Name:
 Pear 6001
ID:
 XM100271
Type:
 Fruit
Color:
 Colorless
Form:
 Transparent liquid
Usage Rate:
 8~15%
Aroma:
 Sweet and wonderful pear juice aroma.
Main Ingredients:
 Food grade natural and artificial flavors.

USP grade propylene glycol, original from USA.

Additional Information:
 Water & Oil Soluable

This is concentrated flavor and should be mixed with PG   and/or VG before Vaping.

MOQ:
 30g
Sample:
 We can provide the maximum amount of 300ml(g) free   samples for testing, but you need to afford the shipping   fee.
Packing:
 Bottle(30g,1kg, 5kg), also as your request.
Delivery Time:

 3-15 working days after the payment confirmed.